Wow!  We had the best walk yesterday.  The next few sentences may sound unrelated, but go with me on this for a bit.  I happened to read an article regarding Facebook and how it is helping people connect, but not really.  Former classmates and long lost friends are able to catch up with each other and in some ways reconnect by spending hours in front of the computer chatting, passing drinks or little green patches and playing one of the many games available, such as Mafia Wars, Sorority Life, etc.  The article stated that this behavior also has the ability to disconnect us from the world that is immediately around us.  It helps us create a virtual world, an escape, and keeps us from connecting with the people and environment that is right in front of our face.   I know I've been guilty of letting things slide around the house to either chat or play games.  I've also not done as good a job of exercising as much as I should because I'm sitting on my butt in front of the computer for hours on end.  Have you ever had this experience?
My point is this, I got motivated again and decided that we needed to take a walk.  We chose to go to Ridgway, which is about 30 miles south of us and also where we lived for nine months when we first moved to the Western Slope.  Ridgway is another of those small incredible Colorado towns with unending beauty and fun activities for the summer or winter.  It is definitely one of my favorite places to visit especially during the summer tourist season when all the shops are open and festivals abound.
We started our walk in the Ridgway town park and walked towards the Ridgway State Park.  The hike was roughly five miles round trip and took us about 2 1/2 hours to complete.  The hike wasn't just a hike, it was also a history lesson provided to us through plaques and signs along the route.  In the late 1800's railroads went through this area to support mining towns such as Dallas, Ridgway, Ouray, Telluride, Silverton, and Durango to name a few.  This was a boom and bust area and one of the towns mentioned, Dallas, doesn't even exist any more.  They disassembled the town and moved it up to Ridgway after the Rio Grande Railroad decided to make Ridgway as it's headquarters.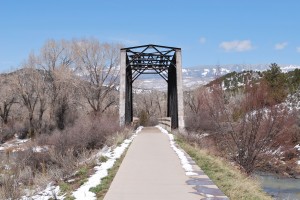 The picture above is of a bridge on the rails-to-trails system that was refurbished around 1995.  The original rails are now the very concrete sidewalk trails we were walking on.  Signs along a few parts of the trail also pointed out that the trail crossed over private properties and that those land owners had generously provided easements for the betterment of the trail system.  Whoever you are, private land owners, let me give you a big thank you.  You have performed a great service to your community and those of us who drive a bit to appreciate the beauty of your community.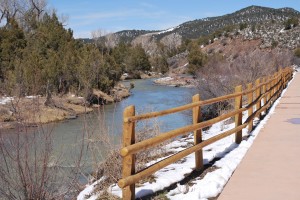 I've been on this trail more than once over the last few years and it is wonderful to see that, not only is it maintained very well but, continuous improvements are being made.  Since the last time I walked this route, a section of the trail was improved from a private dirt road to a completed concrete sidewalk.  Now, the entire route, up to the Ridgway State Park's first public restroom coming from Ridgway, consists of concrete sidewalk.  I'm assuming that original dirt road may have been one of the generous landowners that provided the easement required for the new sidewalk.   If any Ridgway locals reading this know, please fill me in.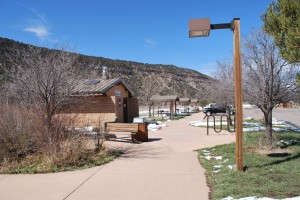 The picture above is our half-way and turn-around point of the journey.  This is the farthest we've ever walked on this particular path and were pleasantly rewarded, 2 1/2 miles into the journey with public restrooms and a water fountain.  There were several other people here taking a break and enjoying the sites as well.  The bathrooms were pleasantly clean and there were parking lot lights, which should provide ample lighting at night.  In the background you will also see three picnic benches under shelters.   Very nice indeed. A short distance behind the restrooms (to the west) was the river. The path branched off from here and crossed over the river to, I'm sure, another interesting destination.  We'll have to explore a bit further next time to see what's on the other side.   There appears to be a paved road that allows visitors coming from the main Park entrance to access these facilities.  Cindy and I are planning a trip to the Park in next week or so to find out more about it and we will let you know how it goes.
Here are a few more pictures from our walk.   Enjoy and let me know if you have any interesting facts about this trail or suggestions on where to go next time.