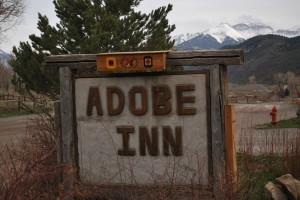 The Inn
Soon after Curt and I moved out to the Ridgway/Montrose area, our friends took us to the first restaurant that they went to when they moved to the area– The Adobe Inn.  It was a magical experience for us – we fell in love with the place right then and there.  Tucked into Ridgway with a view of the San Juans, this warm restaurant features a lazy cantina to relax in while you wait for your seat at a table or cozy booth nestled throughout.
We have since been to the Adobe Inn many times and tried many items off of the menu.  Quite a while ago, we managed to zero in on our favorite meal and every time we go there, we order the exact same thing.  If we deviate from this routine, we are disappointed.  That's not because the food isn't up to par, it is because we managed to come up with the perfect meal combination for us and there is no other restaurant, that we have tried, that can match the experience I will describe shortly.  Let's just call it the Donohue drug of choice.  Your version of perfection may be different than ours, and we would love to hear about it, but I ask you to try ours at least once.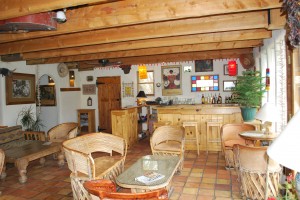 The Meal
I absolutely love Mexican food and one of my favorite Mexican foods (o.k. it can be more like tex-mex out here), is the crispy chili relleno.  A good crispy chili relleno is truly my comfort food and whenever I find one I come back to it time and time again.  The Adobe truly has one of the best crispy relleno's in the Montrose/Ridgway area (with Camp Robber coming in at a close second, and Costa Allegre Third).  What I love about the Adobe's Relleno is that I don't have to ask for my sauce on the side.  There is nothing that will ruin a crispy relleno faster than drowning it in sauce – even if said sauce is fantastic, I like my crispy relleno's to truly be crispy.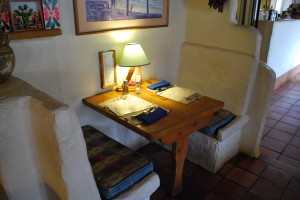 The Order
For starters, a friendly waiter or waitress will bring you out a basket of corn and flour tortillas with an excellent home-made salsa.  They will probably be ready for your drink order and this is what we would suggest if you are inclined to drink alcohol:  Regular margarita on the rocks with salt and be sure you use a top shelf tequila such as Patron Silver, or better (whatever that means to you).  After the drinks arrive, you'll be able to order the main course which will be their chili relleno.  Most of the time, Curt and I actually split this dish because there is just too much food and drink by the time the experience is over.  Have at it if you want a plate of rellenos for each of you, though.  Just be sure you know that you will be ordering a dessert and you definitely don't want to ruin your opportunity for ecstasy.
With the main course you will be given an option of a tostada or a side salad.  Be absolutely certain that at least one of you orders the side salad.  We always get a side salad for each of us not because the tostada is bad but because the side salad is the best we've ever had – bar none.  The salad doesn't look like much, just some dark leafy greens, sliced red cabbage, sliced radishes, cross-cut celery, sunflower seeds and Gorgonzola, but the dressing that they put on it is amazing.  We could simply pig out on the salad and be truly happy.
What's really amazing is not that the rellenos and the salad are incredible, but that the side dishes are outstanding as well.  I don't normally like side dishes at Mexican restaurants because they tend to be very bland beans and rice.  Well, these sides are different.  The Inn sends out its meals with some of the best beans (locally grown anasazi beans) I've had and a corn casserole that is heavenly.  I have not had the pleasure of tasting a better corn casserole yet.  In fact, I would love to have the corn casserole, relleno and salad recipes.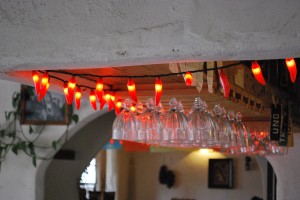 Dessert
If you haven't filled up on the chili relleno's, salad and homemade chips and salsa, and want to totally go all out, order the Kahlua Mousse for dessert – and while your at it get a Kahlua and coffee to go with it.  This dessert can easily be split by 2-4 people and comes in it's own little crispy cinnamon sugared shell.  This is a beautiful chocolaty desert that isn't too sweet.  I wouldn't suggest eating one by yourself, though.  After all that you've already ate, you might explode!  OK, your done and if you're not full yet, I don't know what to say.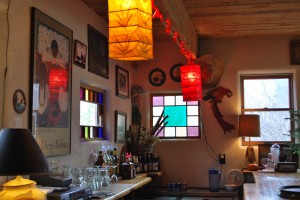 Other Interesting Stuff
The Adobe is not only an excellent dining establishment, it is also a hostel with several rooms available for guests.  Being a hostel, there are several beds per room with the exception of one private room which has a queen bed, dresser, TV and wardrobe closet.  Two showers are available, which are part of the public restrooms for the restaurant.  Be sure you call ahead if you want to try to secure accommodations here.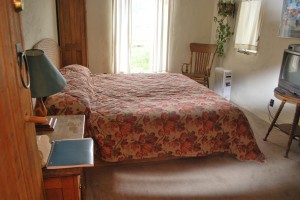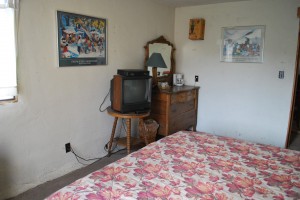 Pricing
Meals for two or four people are not inexpensive, but for what you get, they are incredibly reasonable.  For example, Curt and I had supper at the Adobe Inn a couple weeks ago and ordered the following:
Chips and salsa are complimentary with the order of a dinner
(2) top shelf margaritas ($8.50/each or $17.00 total)
(2) chili relleno entres – side salad comes with the meal (14.00/each or $28.00 total)
(1) Kahlua Mousse desert ($5.50/each)
Generous tip for waitress:)
If you don't want to go that route, you can also have a very affordable large house salad with a grilled chicken breast for $11.00.  This is a very sizable meal and you should not walk away from it hungry.
Location and Contact Info
Here is the contact info for the Adobe Inn:
251 Liddell Dr
Ridgway, CO 81432
(970) 626-5939 phone
Get a Google Map for the Adobe Inn here. If your not into maps, another way to find the Adobe Inn would be to drive south from Montrose until you hit the one and only stoplight in Ridgway.  At the stoplight, take a right into town, go over the only bridge and turn left on Liddel immediately after the bridge.  Go all the way to the end of this short street and you will find it tucked in on the right.  Be sure to check back in with us and tell us about your experience, we would love to hear your opinions on our ordering suggestions and hear about your Adobe favorites as well.  Please feel free to write your own review in the comments below.  The more, the merrier!