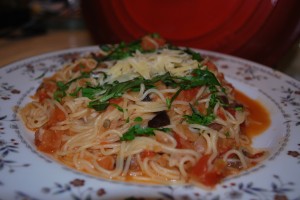 I've heard a couple of different takes on where Pasta alla Puttanesca originates, one is that the chef's made if for the "ladies of the night" when they got off of their shifts, the other is that our ladies made if for themselves.  Either way it's a great story that gives the name and legend to this healthy dish.  I told Curt that it would be the perfect dish for him to make for me and my girlfriends!
This is another recipe pulled from Nathan Lyon's show, "A Lyon in The Kitchen", which is no longer airing (you can also check out my article on his Blueberry Ricotta Pancakes). I like this recipe because it has a lot of flavor without the heaviness of  meat and fat.  Curt is a big meat eater, yet he loves this vegetarian dish, and it is so easy to make and has so many fresh ingredients that we make it on a regular basis.  I also like it because it is very affordable to make, yet is good enough to serve with a nice salad for friends and family.
Pasta alla Puttanesca is a  recipe that is loaded with tomatoes,  onions, garlic, capers, olives, anchovies – and therefore, salt (the only downside – but it tastes so darn good!).  The pasta and the sauce are tossed together and topped with lots of fresh parsley, basil and Parmesan cheese to give it lots of fresh flavors. Who could resist a beautiful dish like that?
By the way, the anchovy is listed as optional – I'm guessing because so many people are terrified of anchovies.  I too was once afraid.  What I have found, however, is that when anchovies are cooked, they actually produce a rich nutty flavor that complements your sauce.
To check out Nathan Lyon's recipe, just click on the following link: