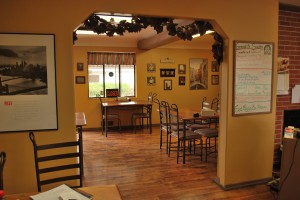 Do you like deli style sandwiches?  Do you like incredible pizza?  If so, Gesseppi's definitely fits the bill.  Cindy and I have eaten at Gesseppi's quite a few times over the last several years.  We've had many of the items on their menu to include sandwiches, pasta salads, pizza and desserts.  Gesseppi's also has a fully stocked deli counter sporting Boar's Head meats and cheeses, which is very high quality flair.
On my most recent visit with Gesseppi's, I had the opportunity to visit with the owners, Mary and Peter Mayhew (mother and son), and they filled me in on how Gesseppi's was born.  One winter day, prior to 2005, Peter and a friend, who happened to be an Italian gentleman, were in Peter's garage contemplating opportunities over a cup of coffee.  The idea of Gesseppi's was formed and, with Mary's help, became a reality.  Gesseppi's opened on Memorial Day 2005, so their four year anniversary is just around the corner.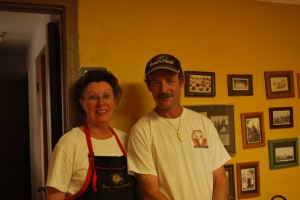 Pizza
One of the things that strikes me about Gesseppi's is the quality of their pizza.  I eat quite a bit of pizza and I can, without a doubt, say that a pizza from Gesseppi's may be the best in town.  They now have some pretty stiff competition from Pahgre's, but nonetheless, Gesseppi's pizza is at least tied for 1st place in my book.  My opinion of their pizza solidified one evening when Cindy and I ordered a half supreme and half veggie.  Don't get me wrong, I don't mind veggie pizzas, but I wouldn't typically order  an entire veggie for myself.  I'm more of a meat guy and Cindy leans more towards the veggies on her pizza.  Cindy and I usually share our pizza equally, though, so I never miss trying out the other half.
I have to say most of the veggie pizzas in town are pretty tasteless and I really don't look forward to giving up part of my supreme half for a less enjoyable veggie portion.  I can't say that anymore as long as I get a veggie pizza from Gesseppi's.  From the very first bite I could tell this pizza was different as it abounded with freshness and veggies I could actually taste.  Actually, they were delicious.  I would eat more veggie pizzas if they all tasted like this.  I spoke with Mary and Peter specifically about the quality of their pizzas and they proceeded to inform me that they use the highest quality dough, sauce and ingredients that they can get from their suppliers.  At the same time, they do not use reconstituted tomato sauce, which is common to find with pizza shops.  This is just another touch that helps make their pizzas stand out from the crowd.
It is also very important to note that Gesseppi's does not add salt to it's dishes except some of their pasta dishes, they don't need to.  I'm not saying they are no-salt or low sodium, but I am saying they give the customer the option of having a meal without added salt and then adding their own if necessary.
I think if people really knew how good Gesseppi's pizza was, they would flock there.  Simply said, Gesseppi's makes awesome pizza.  Please try one out and give me some feedback on your experience.  Go ahead and write your own review in the comments below.
Sandwiches
When Cindy and I go to Gesseppi's, we normally order sandwiches.  Their menu is extensive and if you don't see what you want, just build your own.  There really aren't limits when it comes to a good deli.  You get it the way you like it.  I typically don't build my own anymore because I like trying the specials and there are plenty of menu item sandwiches to pick from.  If I'm not getting a special, then some of my favorites include the "Gesseppi," "Ruben," and "Hot Pastrami."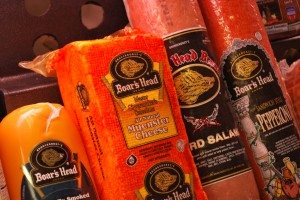 Antipasto and Salads
If you are not up for a pizza or sandwich, try some antipasto or one of their salads.  Gesseppi's has two antipasto versions and six different salad combinations to include:
Green Salad
Chefs Salad
Italian Salad
Greek Salad
Tuscan Salad
Southwestern Salad
Deserts
Yes, they have deserts too.  Getting desert after one of their sandwiches is not an easy thing to do.  Normally, I eat a whole sandwich when I should only eat half.  That makes it pretty tough to force a desert down my pie hole, but somehow I manage.  I'm a big tiramisu fan and Gesseppi's is very good.  There are usually two or three deserts to choose from and they vary from time to time.
Pricing
Regarding cost, Gesseppi's is at or below the cost of food at any other comparable deli or high quality establishment that can offer their quality of food and service.    Here are some examples as of April 29, 2009:
Large Italian Salad – $13.95
Ruben – $7.95
Egg Salad Sandwich – $4.95
Kid's Turkey and Cheese – $2.75
Large (16″)/Medium (14″)/Small (10″) Supreme – $17.25/$13.50/$8.49
Large (16″)/Medium (14″)/Small (10″) Margharita – $11.99/$10.50/$5.99
Click here for a copy of Gesseppi's menu. This pricing is current as of 4/29/2009 and there is no guarantee that it will be the same when you go.
Location and Contact Info
Gesseppi's is located at:
1140 S Townsend Ave
Montrose, CO 81401
(970) 249-1717 phone
(970) 249-5651 fax
For a map to Gesseppi's, click here.
I hope you get a chance to check this little gem of a restaurant out.  Please let us know how it goes if you do.