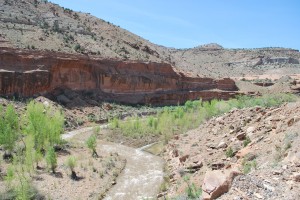 Our trip to the Escalante Canyon on Thursday April 30, 2009 was somewhat spur of the moment and we really didn't know what we would find because the information available for the Canyon is limited, at least compared to what you would find for other State Parks or National Monuments.  See the following link for the Colorado Department of Natural Resources' take on the Canyon.
http://parks.state.co.us/NaturalResources/CNAP/NaturalAreasInfo/AlphabeticalListing/EscalanteCanyon.htm
For a even better information go to:  http://www.blm.gov/co/st/en/fo/denca/dcw.html.  This is the BLM's webpage on the area and includes links to download a fact sheet, a map and a brochure which includes a very good map and info on various rules and recommendations regarding burning fires, viewing artifacts, respecting wildlife, etc.
We took off from Montrose, CO at about 11:00 AM and completed the trip around 4 PM, so I'm calling it a half-day trip.  That didn't include any hiking trails because we didn't see any.  We did, however, stop at several old cabins, visited with other explorers at those locations and took many pictures.  We also checked out one very nice rest area with covered picnic tables and great views.  Directly below the rest area was Escalante Creek and obvious examples of it's awesome erosive force.
To find Escalante Canyon, drive north from Delta, CO approximately 12 miles and you should see the turnoff.  It is marked well with a medium sized sign on the right side of the road.  Take a left off of the highway and head west.  There is a large parking lot on the south side of Escalante Canyon Road with a portable toilet.  If you are driving, don't park here because there isn't anything to see until you get a few miles down the road.  The next picture is of the mileage sign for various landmarks.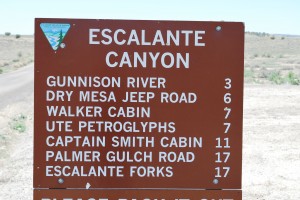 Since it is spring, water was rushing down the Escalante Creek which blocked us from checking out a few roads.  We weren't able to get to the Ute Petroglyphs and we had to end our trip right at the 17 mile marker or risk making our Subaru into a boat.  Nonetheless, there was plenty to see.  Let's start with Walker Cabin.
Walker Cabin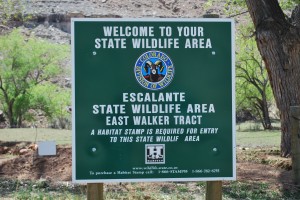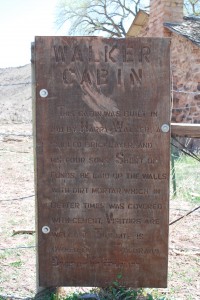 To the left is a wood sign that has been engraved with a short history of Walker Cabin.   The lighting wasn't very good for this photograph so I will transcribe it for you.
"Walker Cabin – This cabin was built in 1911 by Harry Walker, a skilled bricklayer, and his four sons.  Short of funds, he laid up the walls with dirt mortar which in better times was covered with cement.  Visitors are welcome.  This site is owned by the Colorado Division of Wildlife."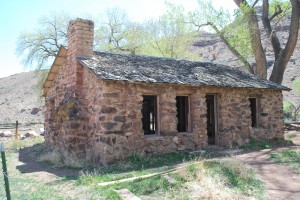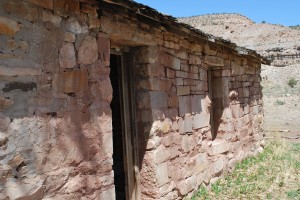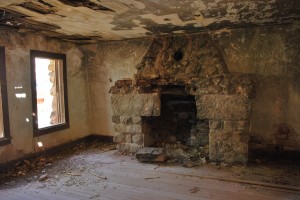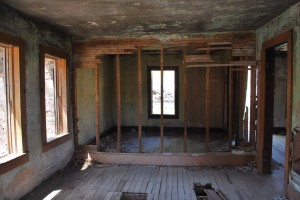 As you can see by the photos above the cabin is in pretty rough shape.  It's doing pretty well, considering it was built in 1911 and has been exposed to the elements for an unknown period of time (at least to me).  Please be very careful when exploring the cabin.  There are floor boards missing and quite a few that are weak and sooner or later more will fail.  Watch your step.
It's pretty amazing to think about someone building a stone house in the middle of nowhere (back then and even now).  The amount of stone needed, even for this small cabin, was substantial.  I have no doubt that the kind of people that it took to build this life were much tougher and more determined that the average Joe in today's world.
Land of Contrast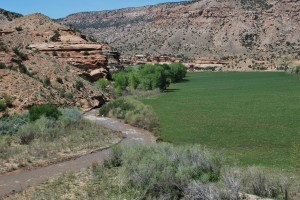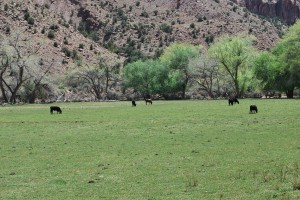 The photos above show that the Escalante Canyon it isn't just desert with rocks and trees and cactus.  It was amazing to see all the hay fields working on producing lush grass for the numerous cattle that are raised in the canyon.  Much of the Escalante Canyon is open range, so don't hit any livestock or you'll be fully responsible for the consequences.  There were quite a few cattle either near or on the road during our drive so you will definitely want to drive slow around corners and over hills or you could be in for a rather large nasty surprise.
The Escalante Canyon, on the Colorado side anyway, is made up of public and private lands.  I'm really not sure how much each there is, but it seemed like we were on about 50% of each.  That's a rough gauge based on how many times the signs identified a change from public to private.  With that in mind, please be respectful of the private land owners.  Many of the sideroads are not public and you should know exactly where you are going and what you are doing if you choose to get off the main road.
Captain Smith's Cabin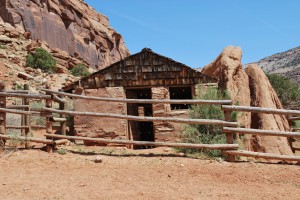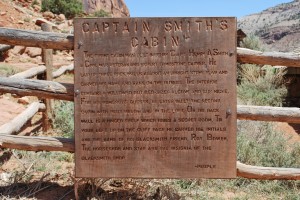 The above sign greets visitors to Captain Smith's Cabin.  This sign says "the front cabin was built in 1911 by Captain Henry A. Smith, a civil war veteran and expert tombstone carver.  He laid up three rock walls against an upright stone slab and carved his name and rank on the outside.  The interior contains a hollowed out bed-sized alcove and gun niche.  For his numerous guests, he later built the second cabin with beds below and in the loft.  On the back wall is a hinged shelf which hides a secret room.  To your left, up on the cliff face, he carved his initials and the name of his blacksmith friend, Roy Bowen.  The horseshoe and star are the insignia of the blacksmith shop."
Here are some additional photos of the site.  This particular stop also has a very nice covered picnic area.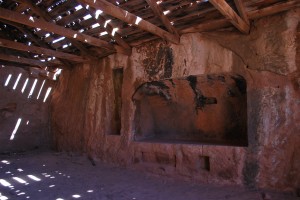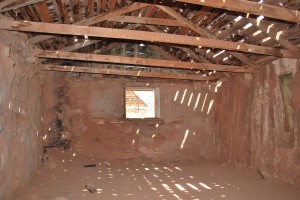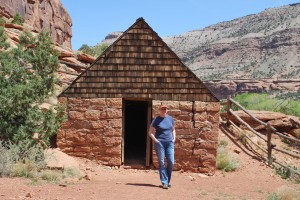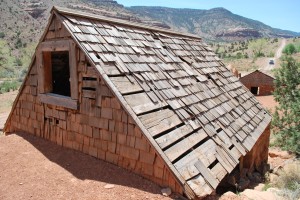 Escalante Potholes Recreation Area

Approximately 12 miles from the Escalante Canyon mileage sign, we ran across a very simple and well kept rest area that included a clean bathroom and several covered picnic areas.  From some documentation I found on the BLM website, it appears these improvements were made in roughly 2005 and were still in very nice shape.  The covered picnic areas included a picnic table and an elevated grill for charcoal barbecuing.  According to the signs, no wood fires of any kind are currently allowed, nor is the cutting down of trees or branches whether they are dead or alive.
Here are a few pictures of the rest area and the covered picnic benches.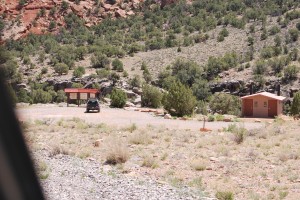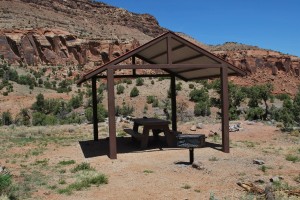 As an added bonus, just behind the restrooms was a beautiful view of Escalante Creek, which has cut down through the sandstone and underlying igneous rocks over millions of years.  It was very striking to see the contrast between the sandstone, which is the majority of what you find in the Canyon, and the igneous rock because you don't find that everywhere in the Canyon.  In fact, this was the only place that I really noticed it.
It is my understanding that in this particular part of the creek there are a number of potholes that have been formed from the erosive power of the creek.  People have found these potholes enjoyable to swim in when the water is lower, but BE WARNED, these potholes can be extremely dangerous and many people have died in the last few years from diving and swimming in these potholes.  If you tried to swim in them now (high raging water), you would be a goner for sure.  There are very ominous signs in the rest area regarding the potholes and you should read the document at the following link to get an idea of how dangerous this can be.
GO TO THE FOLLOWING LINK AND READ CAREFULLY:
BLM implements additional regulations at Escalante Pothole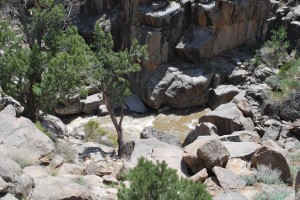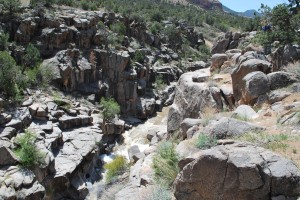 End of the Road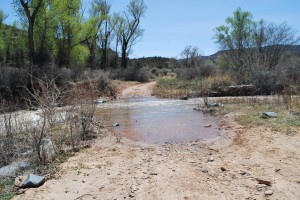 The above picture shows our stopping point at 17 miles into th journey.  I wasn't interested in testing whether or not the Subaru could get across and I'm glad I didn't.  While we were stopped and enjoying the scenery, a more risk tolerant tourist tested the water to see how deep it was and tried to walk to the other side.  It looked pretty promising until he got to the middle of the creek where he dropped in almost to his waist.  This guy was pretty close to six feet tall and I'd be willing to bet he dropped two feet on his last step alone for a total of three feet of water.  I think we would have been fishing him out if he had kept on going.  It was actually kind of scary when you realize just how powerful even a small fast flowing body of water is.  Don't mess around and be safe.
3 Things I Will Do Differently Next Time
Get a map of Escalante Canyon – So far, I haven't found one, but I'm sure if I get with the local BLM they could help me out.  If anyone knows of a good map, please let me know.  What I would be looking for on the map is hiking and road trails on the public lands and demarcations between the public and private lands.  It was a few days after our hike that a good friend of mine informed me that there are all kinds of hiking and road trails to take in the canyon.  I'm excited to go back and try some out.

UPDATE 9/1/09 – Here is the map I was looking for that you may find very helpful. Go to: http://www.blm.gov/pgdata/etc/medialib/blm/co/field_offices/grand_junction_field/PDF.Par.68129.File.dat/Dominguez%20Canyon%202007.pdf

Bring a picnic lunch – There are several great pull-off areas including Captain Smith's Cabin, the Escalante Pothole Area and a couple other smaller camping sites.
Plan for an overnight camping trip – There are a couple very well kept primitive camping areas along the road that could easily accommodate tents and smaller campers.
In Closing
The Escalante Canyon in Colorado is not very well documented and I would like to change that.  If  you happen to have any stories, maps or good information on this canyon, please contribute to this post by commenting below.  It is a great canyon with much to offer and we might as well make it as enjoyable experience as possible for everyone by sharing what we know.