Nathan Lyon's Yummy Blueberry Ricotta Pancakes with Real Maple Syrup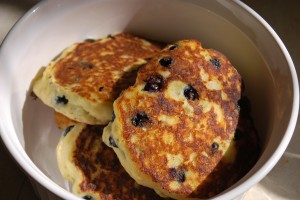 I have never been a fan of breakfast until I tried this low-fat blueberry ricotta pancake recipe.  I'm not a big pancake maker, however these are hands down the best pancakes I have ever made and the best pancakes I have ever tasted.  And I figure that between all of the antioxidant rich blueberries and the fact that the recipe is on the fit tv network, they can't be too bad for you either.  Click here for the recipe.
A couple of notes:
Nathan Lyon before you start making the recipe, I want to make a couple of suggestions:
I first found this recipe on the Lyon in the Kitchen page located on the Discovery Health Website.  It looked so delicious that I had to try it, however I found that the batter was so heavy that it took 5-10 minutes on each side and the pancakes still weren't done in the middle.  I got so frustrated that I almost stopped making them.  Then one day I happened to catch the Lion in the Kitchen episode, and I saw Nathan Lyon do something that isn't mentioned in the recipe.  The batter is made slightly heavier from the addition of  ricotta cheese (low-fat, of course).  You offset this heaviness by whipping 2 egg whites (I use the whisk attachment on my electic mixer) and folding them in.  What is not disclosed in the on-line recipe is that you need to fold in the egg whites in two batches.  So, you whip up your two egg whites, spoon out about half of them into your batter and fold them in, then fold in the other half.   This little trick will make all the difference in the world in how your pancakes come out.
A few more thoughts and tips:
• Make a note that you sift together the dry ingredients – this too will make a difference.
• When Nathan Lyon cooks eggs, he slices off a pat of butter then quarters it. Then he melts one of these quarters in the pan and cracks his egg right onto the little spot of melted butter.  As the egg spread on the pan, it pushes the butter before it.  I tried this fat saving trick (using slightly more butter) with my pancakes in a non-stick pan and it worked beautifully.
• We happen to have a warming drawer below our oven which we use regularly to keep our pancakes warm while we finish breakfast and to warm our plates for the pancakes.
The last thing that I pulled out of his show, that you won't get from the recipe is what to serve with your pancakes.  Oh sure, you could serve yourself a heap of scrambled eggs and some bacon.  However I think it's a much nicer presentation (and tastes so good!) to mix together some sliced strawberries, oranges and blueberry's and mix them together with some chopped mint.  Serve your pancakes with some grade B maple syrup and your fruit on the side and you will be in blueberry pancake heaven!
If you have a favorite blueberry pancake recipe that you would like to share, please send a comment.